PILOT Intelligent MCC Motor Control Center
PMAC8200 Motor Control Center
PMAC8200 MCC is a efficient and reliable Center for PMAC801 Motor Protection Controller to centralized
management and control.
 Support 60sets PMAC801.
 Provide convenient and user-friendly HMI.
 Support to view status, set device and detect fault.
 Shorten operation, administration and maintenance time.
 Independent system, decrease system software investment.
 Suitable for middle project of petroleum, chemical, electric power, mining, cement, papermaking and other enterprises.
Features:
 Integrated design, Touch-screen HMI, Easy to operate
 Multi-user authorization, Easy to control rights of management
 Provide sound and light alarm signals, reduce operating risks
 2000 recent alarm/fault records, Easy to handle fault processing
 Flexible configuration system function according to equipment model and functions
 Support U disk setting function
 Support Modbus-RTU communication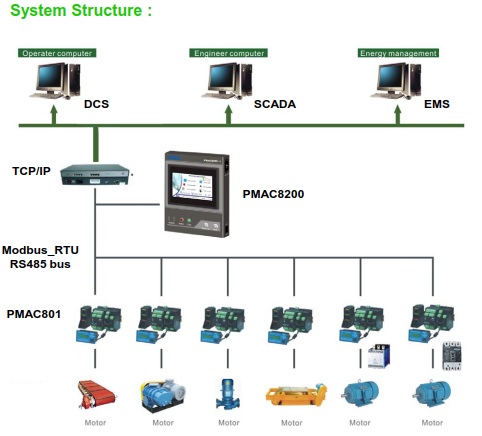 Attached:
PMAC8200 MCC Datasheet V1.0.pdf
觀看大圖
PILOT Motor Protection Controller
Application
 Lower Voltage MCC
 Integrated process and electrical control

Features
 Used to control the contactor in the AC circuit (rated voltage
up to 660V)
 Integrated measurement, protection and control functions
 High Reliablity,10 years on site experience
 35mm DIN rail mounting
 Extended DI and DO module, Pluggable terminals, easy to
install and maintain
 Optional display module
 Safety, Excellent quality and multifunction
 Display module has 5 LEDs "Start", "Run", "Alarm", "Trip"
and "Communication"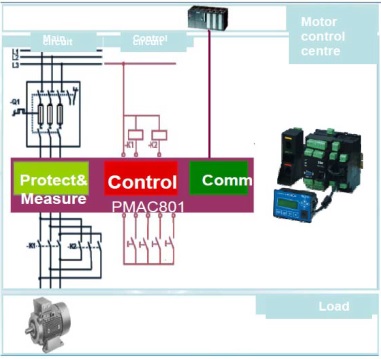 Attached: PMAC801 motor controller Data Sheet.pdf