ENERGOTEST ARC PROTECTION ZL1
ENERGOTEST ARC PROTECTION ZL1 
Basic realy PL-1 futures:
sends tripping signal (3 switching contacts);
detect voltage drop on switchgear's bus-bars;
gets an information about input state of fiber optic loops;
generates alarm signals
Optical fiber loops
The main function of optical fiber loops is detection of an arc fault light. This loops are not covered, and they are using the effect of side penetration of light. The maximal length of one loop is 60m (optionally 100m). Each relay has two loops.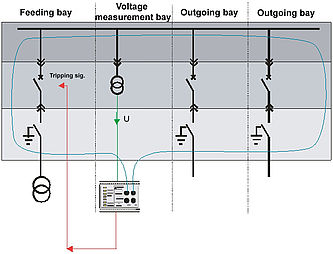 ENERGOTEST ARC PROTECTION ZL4
ENERGOTEST ARC PROTECTION ZL4
ZL-4 is on innovative protection with module structure - central unit and bay units (max. 99 for one central unit). The communication between units is executed by fast CAN bus. Together with CAN bus, power supply circuits are distributed. Functions such as voltage measurement and power supply are centrally grouped. In new construction a lot of proven solutions, like front light detectors have been used. The key advantage of ZL-4 is the possibility of selective tripping of bays in witch the arc fault has occurred. The protection is dedicated to the modern closed switchgears. 
The idea of ZL-4 installation in the switchgear
The signal from voltage measurement bay is leaded to the protection relay (under voltage condition). Central unit is connected with bay units by CAN bus. Each bay unit has up to four front detectors placed in different sectors of protected switchgear bay. In case of detection arc light in first zone, the whole switchgear is tripped off. In case of detection arc light in second zone, only this bay is tripped off, in which the light has been detected.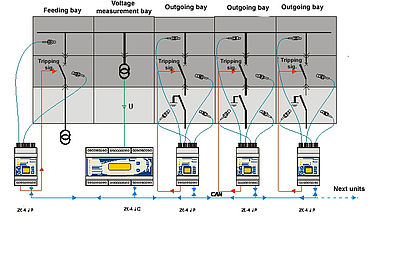 觀看大圖
CAMTO弧光偵測電驛(系統) Arc Detection Relay
Major highlights of the new ARC-detector unit from Camto A/S type: 601E0100 & 601E0900:
 Input voltage: 9-32VDC (601E0100) 110Vac/230Vac (601E0900)
 Four individual detector zones
 Unlimited numbers of sensors for each sensor zone
 The possibility of series connection of sensors in the same zone (savings on sensor cables
and installation costs)
 100% self-test feature option; even tests of the optical parts are included
 Pre-detection of small levels of fault
 Simple serie code output for event status (PLC interface)
 Trip coil outputs as latched and open contacts
 Combination of sensor types like smoke, ARC, humidity, temperature and levels are
available
 Standard DIN unit with spring terminals
 Realtime eventlog with time and date information for fault status
 Simple PC interface (MSP) for monitor and setting use
 Low unit and installation costs